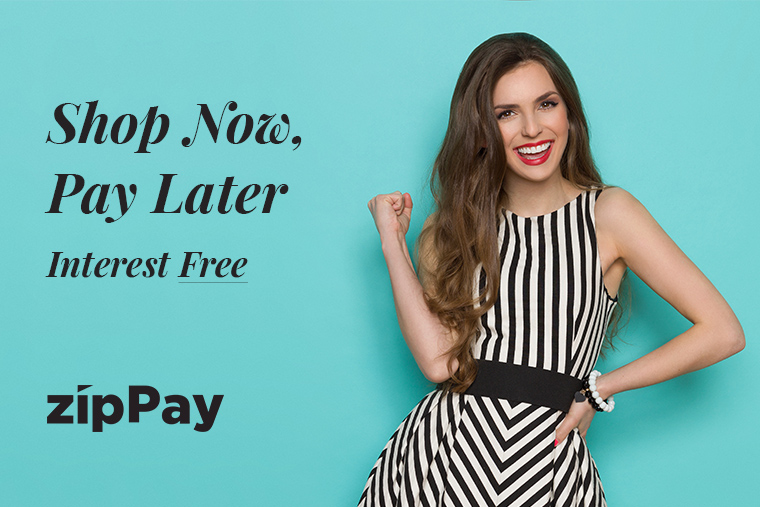 Shop Now Pay Later With zipPay
Nothing to Pay Today – Takes Seconds to Sign Up
We're pleased to announce that we now accept zipPay and you can check out in seconds.
0% Interest
Spend up to $1000
No credit card required
How Does It Work?
Add the products you wish to buy then head to the checkout page
Select zipPay as your payment method and sign up for a new zipPay account in seconds, or login if you already have one.
Pay in weeks or months according to your preference.
Got More Questions?
Can I Get zipPay?
You must be 18 years or order and be an Australian citizen.
What Is The Real Cost?
Firstly there are no setup fees, or closing fees, etc.
There is a minimum of $40 to pay each month. So if your order is $400 then you can make 10 payments of $40 per month or higher amounts if you wish to pay it of sooner.
If you pay the balance in your account in full before the due date on your statement, you pay ZERO fees. But if you need more time to pay, simply pay the minimum and the remainder of the balance will be carried into the next month with a $6 account fee.
Can I Keep Using My zipPay Account?
Yes, once you have paid off your statement, simple do nothing until you wish to use zipPay again and the whole process will start again.
How Can I Sign Up?
It literally takes seconds, all you need is a paypal or facebook account to confirm your details. Or you can create an account manually.
When you submit your order through zipPay you will be subject to approval in which you can then finalise your purchase.
Once approved by zipPay you can use that account without having to reapply again.
How Do I Get My Statements
You can login to your zipPay Digital Wallet to view and print your statements. You will also receive monthly emails which will include:
Minimum payment due
New purchases made
Billing due date
Payments made from previous statements
Fees applied
How Can I Make Repayments?
You can setup direct debit which is the best set-and-forget method in which the minimum amount is $40 each month.
You can also make a one-off payment at any time. Simply login to your zipPay Digital Wallet select 'Make a Payment' and you can pay via direct debit, credit card or Bpay.
Find Out More
If you have any more questions, feel free to call DadShop on 1300 88 23 83 or send your questions to sales@dadshop.com.au
Alternatively you can find out more directly by visiting zipPay website www.zippay.com.au