Doctor Who - TARDIS Tin Storage Box
$12.95
$24.95
or 4 payments of AUD $3.24 with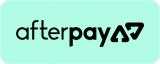 or

$10 / week
Processing Time: 1 - 2 Days
If you're a fan of Doctor Who then this collectable is not to be missed! Fill the storage tin with with your favourite treats, coins, or any bits and bobs. Enjoy the awesomeness that is this delightful Tardis... but make sure it doesn't pull out any of its sneaky time travelling tricks!
Features:
Measurements: 13 x 13 x 26 cm
Officially licensed item by BBC.