15 Fishing Gifts For Men For Any Occasion
Looking for a fishing gift for a man on any occasion? Look no further than DadShop. We've rounded up 15 of the best fishing gift ideas that any angler is sure to love. From birthday gifts to holiday gifts, we have something for everyone. So why not take a look and find the perfect fishing gift today?
1. Reel Adventure Fishing Mug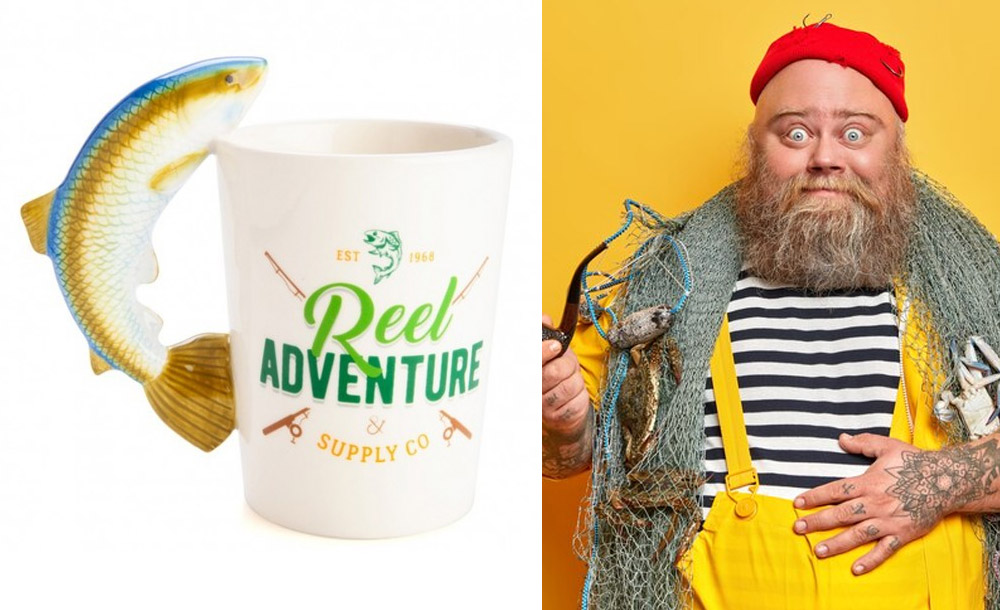 This mug is perfect for any fishermen who enjoy their cup of coffee or tea. It features a lovely handle that looks like a fish along with the text "Real Adventure" on the mug. A unique mug to show one's passion for fishing.
2. 100 Fish To Catch Scratch Off Bucket List Poster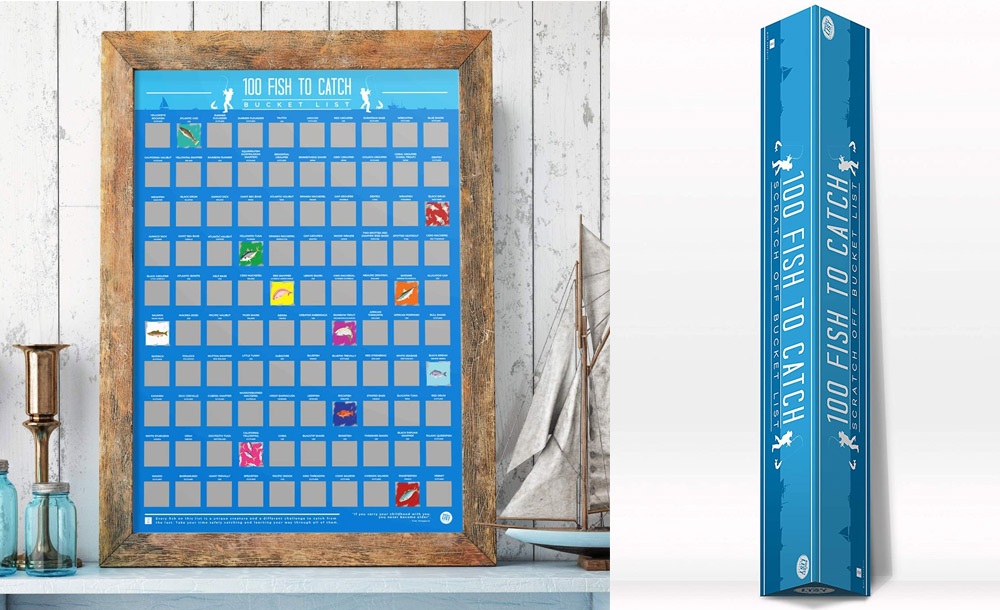 This is a great gift for any fisherman who loves to scratch off their accomplishments. The poster features a list of 100 different fish, and as the fisherman catches them, they can scratch them off the list.
3. Hook, Line & Sinker Fisherman's Gift Pack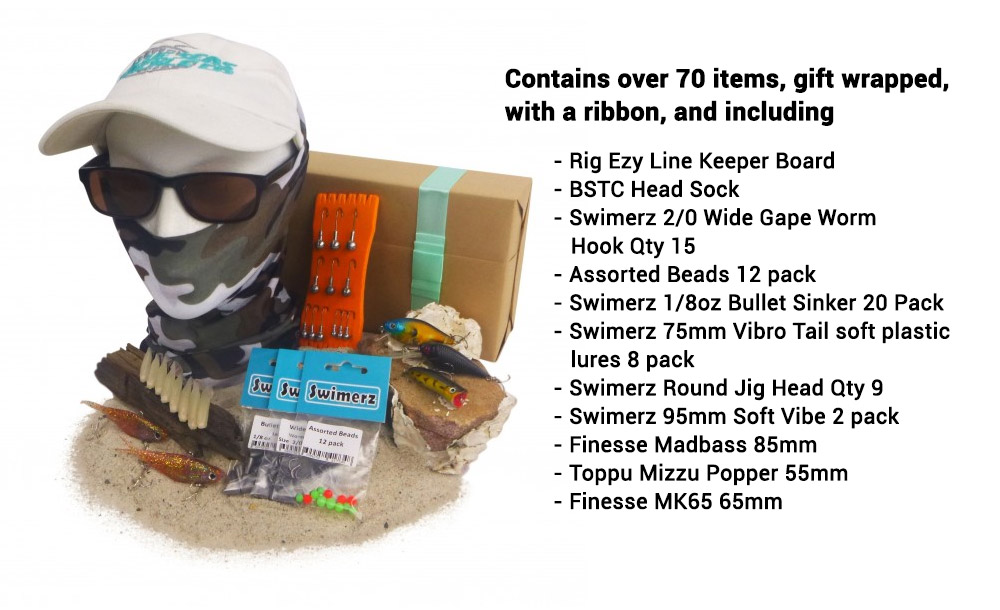 Built to please the most demanding angler, this collection offers a variety of lures and sizes. This includes over 70 hard body surfaces with suspend-able or diving capabilities as well as scented Soft Plastic Vibration Lure for those who prefer their prey on the scent! There are also weedless rigging options if you're looking forward to getting into some serious fishing action today.
It also features a Head Sock with colours and designs to keep you cool during hot weather. The microfiber material is lightweight so it won't weigh down your head or neck while wearing them for long periods of time!
4. Premium Fishing Multi-Tool Acacia Wood & Titanium Finish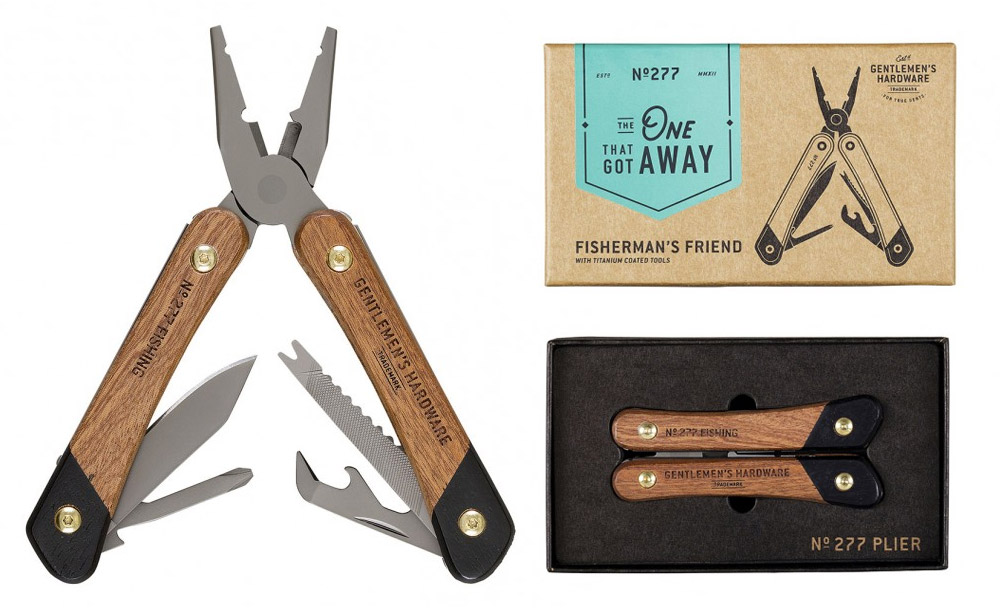 This fishing multi-tool is perfect for any fisherman who wants to be prepared for anything. It features a knife, fish scaler, bottle opener, and more. Made with acacia wood and titanium, it's built to last.
5. Personalised Man Fishing T-Shirt
Give the fisherman a special shirt to wear when he goes fishing. The t-shirt features a design of an angler with rod and fish is on this t-shirt, which says "(NAME)'s FISHING SHIRT".
6. Totally Hooked Fisherman Feet Speak Socks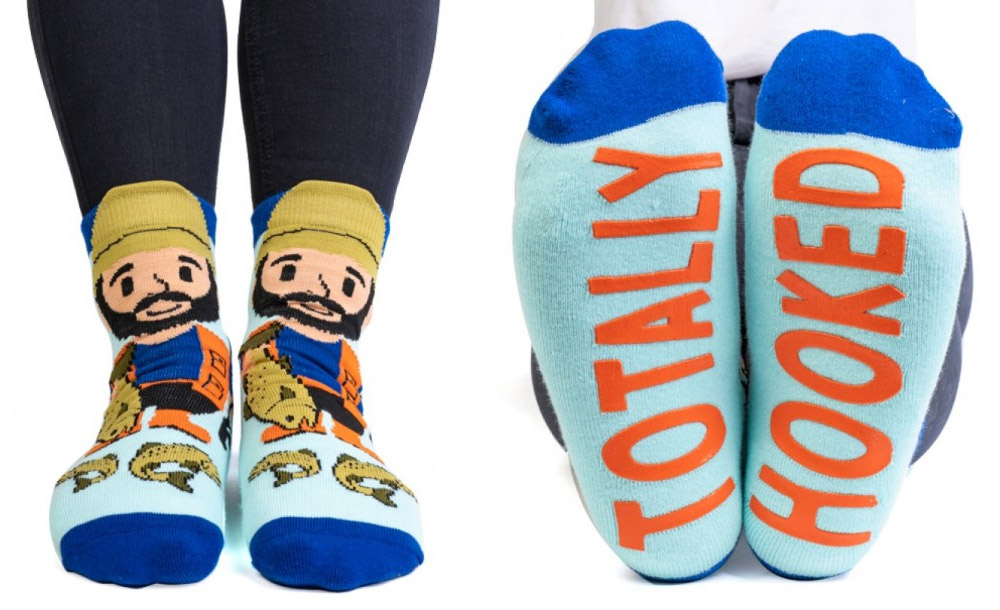 I don't know about you, but I'm totally hooked on these blue socks! They're so creative and cute. And did you see the words below them? TotALLY HOOKED!!
7. The Lure Fishers Toy Box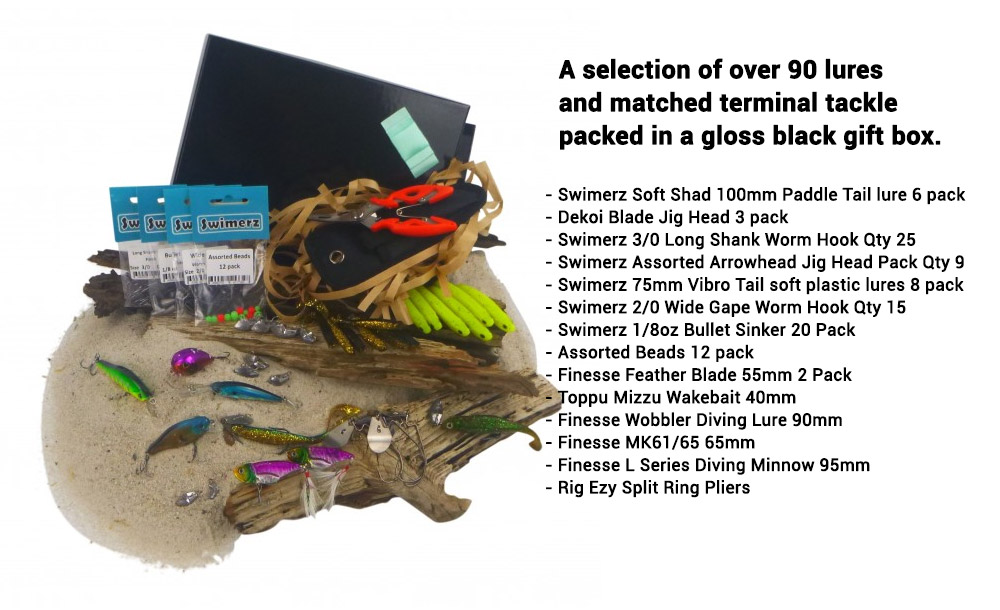 The best way to have a day out fishing is with the Lure Fishers Toy Box. It's got everything you need, whether on land or water; hard body lures for catching big ones from your boat while suspended in air, soft plastic designs that smell good enough so they'll bring those stripes right into biting range - even scented paddle and curly tails!
Other inclusions are: bladed, weedless and standard jig heads with rigging parts.
No matter what kind of fish you're after, this pack has everything. From the freshwater to saltwater and everywhere in between- it's perfect for any fisher!
8. Gone Fishing Cap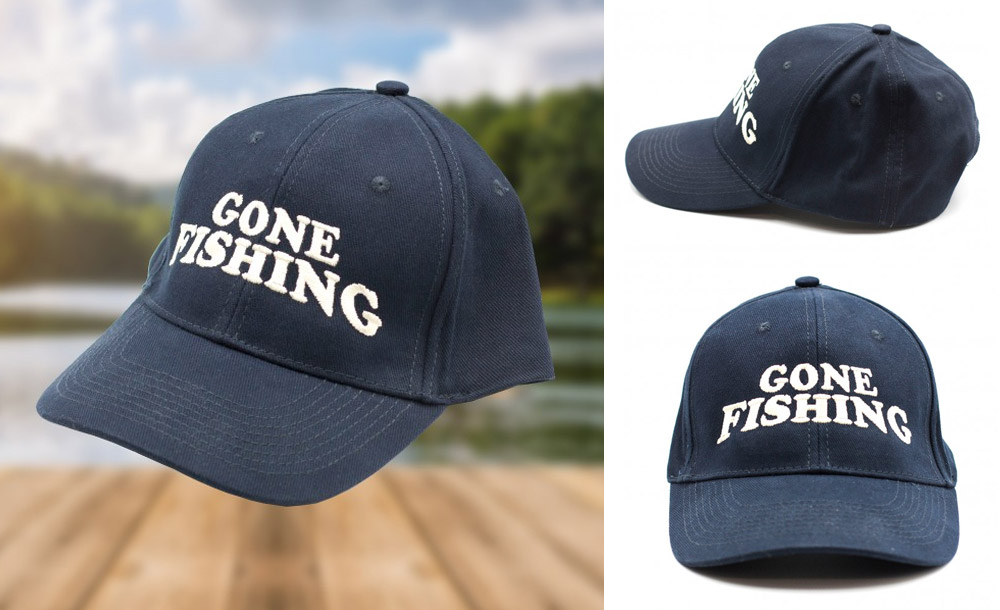 This quality cap says the most important thing to any fisherman, "gone fishing." It's made from high-quality materials and adjustable with velcro straps.
9. Good Things Come To Those Who Baits Mug And Coaster Set
The perfect gift for the person who has everything, this coffee mug says it all! Whether you're at home brewing up some java or just want to show off your fun personality with a nice chatting session down by the pool. The text says "Good Things Come To Those Who Bait," a funny play on words that any fisherman is sure to love.
10. Personalised Man Fishing Apron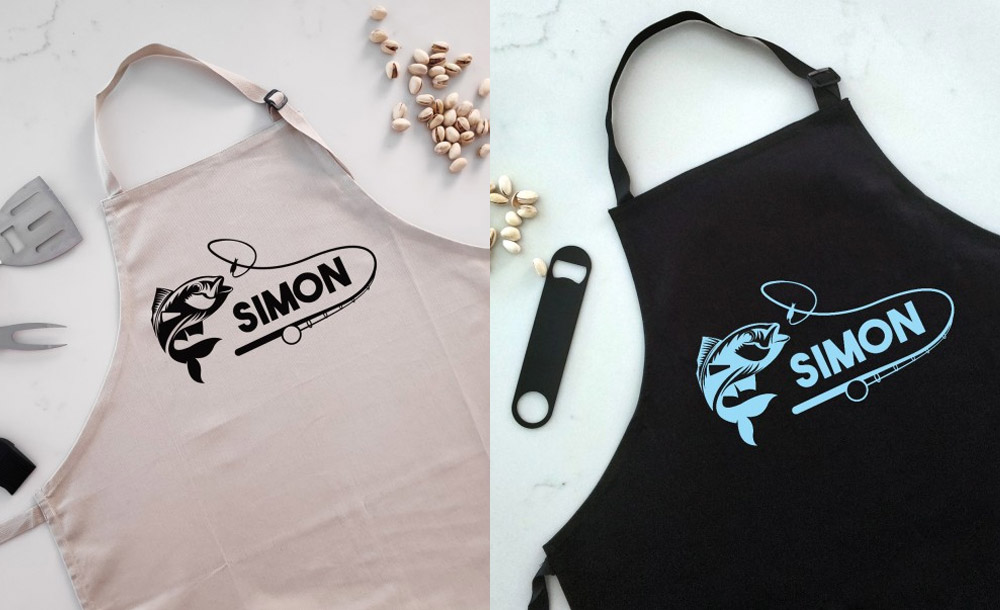 This detailed apron featuring a fishing rod and his huge catch of the day is perfect for one who loves fishing. You can personalize it with your name, making this an amazing birthday or Christmas gift! The black version comes in different print colours while beige has white letters on light brown background that creates contrast nicely against its colours.
11. Sploshies I'd Rather Be Fishing Men's Duo Slippers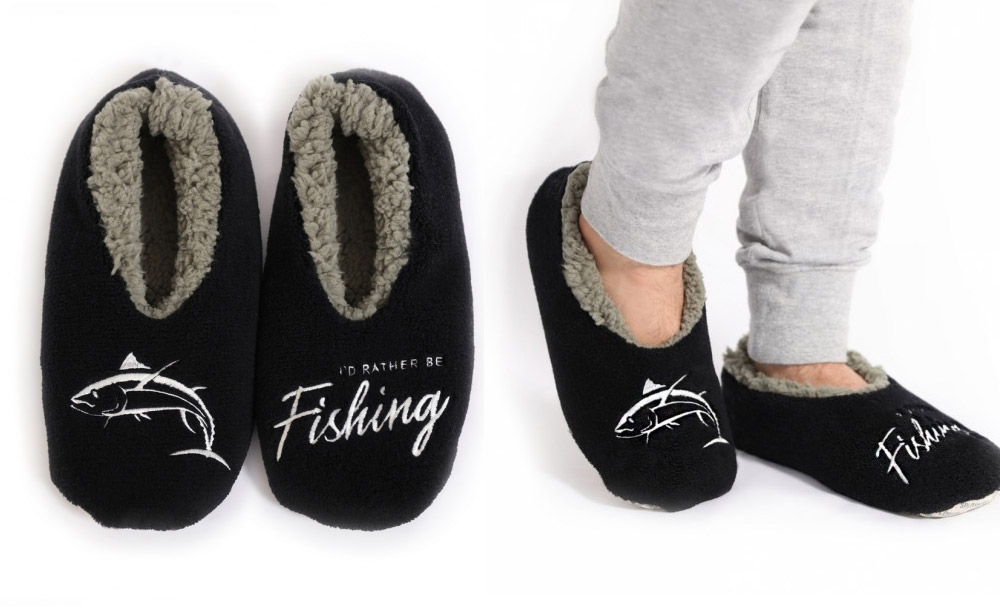 The perfect mix of fun, functionality and comfort; these slippers are for men who love fishing more than anything else. 
The Designers at Sploshies have created an Australian-designed product that's both durable yet stylish with their signature soft Sherpa fleece lining which will keep your toes cozy during those cold days on the water or even just around town walking through shops looking for that perfect outfit!
12. Personalised Rod Father T-Shirt
The perfect gift for any fisherman in your life, this personalised T-shirt will guarantee a big smile on his face. Made from 100% cotton and featuring the saying "(NAME) THE ROD FATHER" across its front, the t-shirt also comes in white or black - it's sure to be one he'll wear proudly!
13. Bass Fish Bottle Opener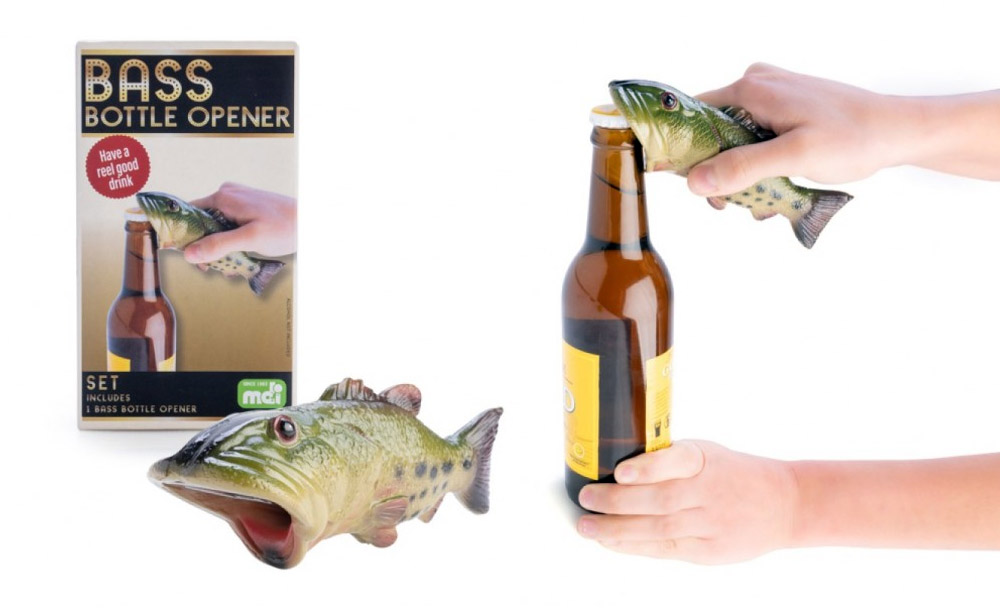 This cool bottle opener is in the shape of a bass fish. It's made from sturdy polyresin material and a stainless steel bottle opener. A great gift for any fisherman who enjoys spending time outdoors!
14. Wishing I Was Fishing Premium Drink Coaster - Pack Of 5
The Premium Drink Coaster is a great gift for any beer-drinking fisherman! You can combine both their passion (and taste) in one by giving them this cute coaster that comes in a pack of five. It says "Wishing I Was Fishing."
15. The Black Box Of Hard Body Lures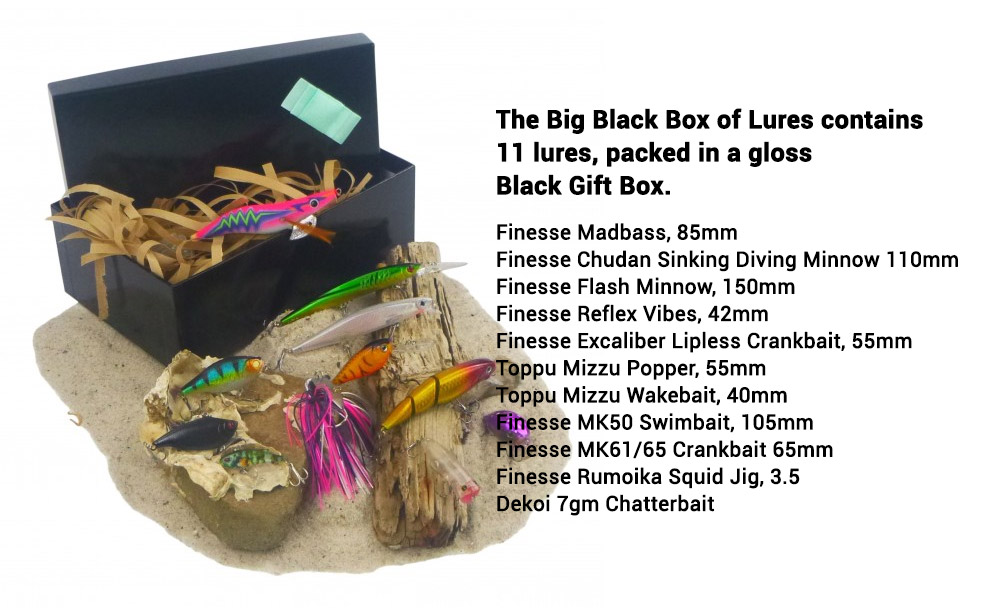 Hard-bodied lures are an essential part of any fisherman's toolkit. The Big Black Box Of Lure is a gift-boxed collection that includes quality tested hard body fishing gear suitable for use in both fresh and saltwater environments, including jigging when targeting squid or surface fishing on the deep sea Floor therapies such as trolling with your rod & reel while throwing some around nearsightedly shallow areas where there may be reef life lurking beneath its cover. An amazing gift idea for someone who enjoys fishing in fresh and saltwater.
It's A Wrap
Finding the perfect gift for any fisherman can be a daunting task, but we hope our list of fishing gifts has given you some inspiration. From practical items like tackle boxes and rods to funny and unique gifts like personalised aprons and coasters, we have something for everyone. So whether you're looking for a birthday present, Christmas gift or just want