Beer Chiller Sticks - Set of 2
$29.95
or 4 payments of AUD $7.49 with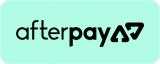 or

$10 / week
Processing Time: 1 - 2 Days
Craving that first icy cold sip? Beer chiller sticks to the rescue! Simply place them in your beer for an instant icy cold hit and keep beer cold for 60 mins.
These stainless steel beer chiller sticks cool your beverage without diluting it so you can enjoy every sip of the perfectly chilled beer in its original flavour from start to finish.
How it works:
Place both Beer Chiller Sticks in the freezer for at least 2 hours.
Insert a Beer Chiller Stick into a bottle for instant ice cold satisfaction.
Drink through the Beer Chiller Stick or pour the beer out without removing the stick.
No fuss. Bottoms up!
You Might Also Like
Barware
WA2250
Finally a gift for the wine lover who has everything. Simply chill, pour and enjoy.
Popular With Other Customers