Bath Pillow - Heart Shape
$19.95
or 4 payments of AUD $4.99 with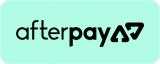 or

$10 / week
Processing Time: 1 - 2 Days
Make the most of your quiet bath time. Relax your mind and rest your head on our heart shape bath pillow. This comfortable, firm foam pillow rests gently on the edge of your bath.

No more messy suction cups or marks left to clean. So easy to use, store and dry using the mesh drawstring bag.
Fun for one or for the whole family to share.
Popular With Other Customers